IMMEDIATE POWERFUL SENSITIVITY RELIEF UP TO 3 YEARS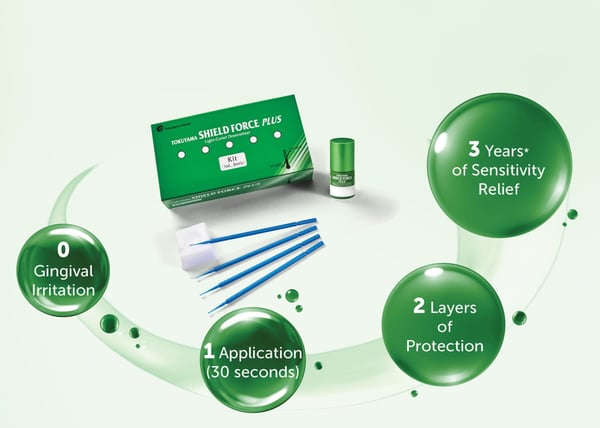 Shield Force Plus is an advanced light-cured desensitizer that provides a pleasant, effective, and easy-to-use chairside solution for preventing post-restorative sensitivity and treating hypersensitive dentin. Shield Force Plus's Double Block Technology provides two layers of protection against sensitivity: The 1st layer penetrates the dentinal tubules for immediate pain relief, while the 2nd layer forms a protective barrier on the patient's dentin, protecting it from further abrasion and future sensitivity for long-term relief up to 3 years.
FEATURES & BENEFITS
Long-lasting sensitivity relief for up to 3 years
Quick and simple 30-second application
Irritation-free, no need to isolate gingival tissue,

doesn't contain Glutaraldehyde

Applies green, dries translucent for enhanced visibility during application

Improves bond strength when used in conjunction with a bonding agent
*Up to three years, according to Tokuyama R&D Center, Japan.